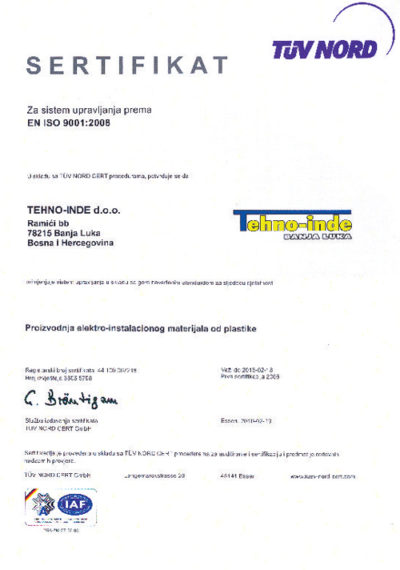 Quality Policy
Starting from the fact that the survival and development of our company depends on the commitment of customers to buy our products, we have focused significant activities on continuously looking at current and future needs and demands of our customers.
Contact with customers is an important item, so it must be continuous and, accordingly, it is necessary to constantly get information and data on their needs, desires and opinions about the quality of cooperation with our organization.
The established quality management system, compliant with the requirements of the international quality standard ISO 9001/2008, must be constantly monitored in order to maintain and improve it to the level that will enable the production of quality plastic electrical materials and bring Tehno-Inde d.o.o. among the leading manufacturers of electrical installation materials in Bosnia and Herzegovina and wider.
We choose our suppliers on the basis of criteria that ensure the procurement of materials that are the basis for the production of qualitative products.
Employees are the most important part of our company. So, we pay full attention to their training and education. All employees are responsible within their work assignments for the quality of our products.
Our commitment is that in the future, in addition to improving the technology, our development will be based on the introduction of young and professional staff.
LIST OF DECLARATIONS
EC DECLARATION FOR RIGID TUBES
EC DECLARATION FOR GYPSUM BOARDS
EC DECLARATION FOR STRINGING BOXES
EC Declaration for SURFACE DISTRIBUTION BOXES
EC DECLARATION FOR ROUND DISTRIBUTION PZ BOXES
EC Declaration TUBE ACCESSORIES
EC DECLARATION FLEXIBLE TUBES
EC DECLARATION COLLECTOR HOLDERS
EC Declaration COLLECTOR COVERS
EC DECLARATION OF THE SQUARE DISTRIBUTION PZ BOXES